Applicable Industries: Manufacturing Plant, Machinery Repair Shops, Retail
Type: V-BELT
Material: Cast Iron
Product name: 2AK25 AK 2 Groove Fixed Bore Pulley Sheaves cast iron for Electric M
Other name: SHEAVE
Standard: BROWNING
Surface treatment: Powder Coating
Color: Gray
MOQ: 100pcs
Packing: Natural Packing
Bore Type: Bore
Certificate: ISO9001:2015
Packaging Details: Usually it is PP Bags+ Carton + Pallet,we also accept customers' requirements.
Port: FOB ZheJiang /HangZhou
About usHangZhou Bethel Shaft Collar Manufacturing Co.,Ltd. was established in 1998. After several years development,it has been enlargingand improving itself. It is an ISO9002 certified Enterprise, specialized in manufacturing various specifications of sheaves.Zinc-plated Shaft Collars, Single and Double Split Collars, Stainless Steel Shaft Collars, S-style Split Collars, XTH, XTB, QD, BMStyle Split Taper Bushings, Ductile iron shaft collars and all kinds of Weld-on Hubs, Taper-locked Bushings etc. Our annualcapacity is over 10,000,000 PCS.Aimed at To put up quality to the first position and To put credit worthiness above everything else, with powerful and skillfultechnical force, advanced production equipment, perfect managing System make the quality stable, The products are well received bythe customers, enjoying a very high reputation in U.S.A and European markets.Bethel warmly welcoming guests from both abroad and home, appreciates your esteem advice and playing an active role in promotionof foreign trade exchange.
| | | | | |
| --- | --- | --- | --- | --- |
| 1.Our V-Belt Pulley Includes | Light Duty Bored to size Pulleys (AK,BK, Replacement For BMW 1 2 3 4 5 6 7 X3 X4 F20 F30 F31 F34 X3 F25 X4 F26 Carbon Gear Shift Panel Frame Gear Knob Cover Head Trim 2AK,2BK,3BK series) | | | |
| | Light Duty Taper Bore Pulleys (AK-H,BK-H,2AK-H,2BK-H series) | | | |
| | Split taper bushed Pulleys (1TB,2TB,3TB series) | | | |
| | Heavy Duty QD Pulleys (1B,2B,3B,1C,2C,3C,4C,5C series etc) | | | |
| | Light Duty Variable Speed Pulleys (1VP,2VP,1VL,1VM series) | | | |
| | QD taper bore sheaves Pulleys (3V,5V,8V series) | | | |
| | Single Groove Pulleys (OK,OL,AL series) | | | |
| | According to customers' requirements or drawings | | | |
| 2.Materials | Cast iron, steel, aluminium alloy, Direct Selling 20 Degree Helicalbevel Stainless Steel Gears Engine Hobbing ect. | | | |
| 3.Surface treatment | powder coating, zinc plating, black oxided,etc | | | |
| 4.Standard | ANSI.API.BS.DIN.JIS.GB.etc. | | | |
| 5.Machine equipment | CNC center, CNC milling machine,CNC turning machine, CNC drilling | | | |
| | machine, CNC lathes, lathe, 4 axis machine etc. | | | |
| 6.Application field | Equipment accessories, Airplane, Ship, Bicycle, Motorcycle, Auto, Medical,Chemical, Wheel, Sports, Anchor, Weapon, etc. | | | |
| 7.Certification | ISO9001:2008 | | | |
| 8.Warranty | One year after shippment | | | |
| 9. QC | 1. Materials are to be checked carefully before production. | | | |
| | 2.Strict processing quality control | | | |
| | 3.100% inspection before shipment. | | | |
| 10.Inspection Equipment | CMM, Projection, Calipers, Micro caliper, Factory Hot Sales Hot Style Spiral Pinion Bevel Gear Group For Power Transmission Parts Thread Micro caliper;Automatic Two / Three Coordinate Measuring Instrument etc;Third party inspection avaliable upon customer's requirements | | | |
| 11.Shippment | TNT, FEDEX, DHL, UPS, EMS, by air, by sea | | | |
| | | | | |
| --- | --- | --- | --- | --- |
|  BK Series Sheave | BK30 to BK190 | | | |
| | 2BK32 to 2BK190 | | | |
| | 3BK45 to 3BK190 | | | |
| 1)Widely used in the European & America market with good hardness and strength | | | | |
| 2)Suitable for A,B 4L,5L V-belts | | | | |
| 3)Material: Cast iron,Steel,aluminum alloy,etc | | | | |
| 4)Finish: Gray Powder Paint,Zinc | | | | |
| 5)Bored to size from 5/8 TO 1-7/16 inches | | | | |
packing neutral packing logisticsocean shipping/air freight Exhibition CultureWe are professional manufacturer focus in shaft collars,split shaft collars,bushings,sheaves,pulleys,couplings,weld-on hubs,any question pls feel free to contact with us, Synchronizer Assembly K3492 Truck body parts for Transmission Gearbox look forward to work with you!
Types of Shaft Collars
A shaft collar is a simple machine component that is an integral part of many power transmission applications. It is most commonly found in motors and gearboxes and serves as a mechanical stop, locating component, and bearing face. Its easy installation and quick assembly make it an ideal component for a variety of applications.


Clamp-style shaft collars
Clamp-style shaft collars are fasteners that fit over shafts. They can be made of aluminum, steel, or titanium. Stainless steel collars are available in corrosion-resistant finishes to prevent galling. Engineered plastics are also available. Black oxide finishes improve corrosion resistance and provide a smooth surface for screw installation.
The holding power of Clamp-style shaft collars depends on the shaft's bore size and concentricity, which are important factors in many applications. The fastening hardware is also important, as it can affect torque transmission. For example, forged screws are superior to broached screws in a number of ways, including reduced risk of reaming out. In addition, the material of the collar must be strong enough to withstand the torque required by the screw.
Shaft collars are complicated components. Their performance can determine the efficiency of an application. The design process is complex, and many factors are considered. Considerations include shaft geometry, bore size, and style. Shaft collar manufacturers will provide performance information on their website. If you are not satisfied with the information provided, you can contact the manufacturer.
Clamp-style shaft collars are made from high-quality materials. The metal used to produce them is lead-free and stainless, which resist corrosion. Moreover, these shaft collars have a high holding power, so they won't mar your shaft and ensure proper alignment. These collars can be found in a variety of bore sizes, from 1/8″ to six inches.
Clamp-style shaft collars are available in lead-free steel, 303 and 316 stainless steel, and aluminum. They are available in a one-piece clamp or a two-piece clamp style. They are made of high-grade steel and are machined to a burr-free surface.
Clamp-style shaft collars have two-piece clamps that can be easily disassembled and installed in their proper position. Two-piece clamps are stronger than one-piece collars because all of the clamping force goes directly into the clamping shaft. Two-screw clamps have two and four-screws, and can also be wrench-tightened.
Set screw collars were one of the first shaft collars to be mass-produced. They were often used on line shafting in early manufacturing mills. While they can work well for simple shaft positioning, they're not the most reliable option for complicated applications. Furthermore, set screws can cause damage to the shaft, making it difficult to reposition the collar or adjust its angle. For this reason, small flats are usually added to the shaft at set screw locations.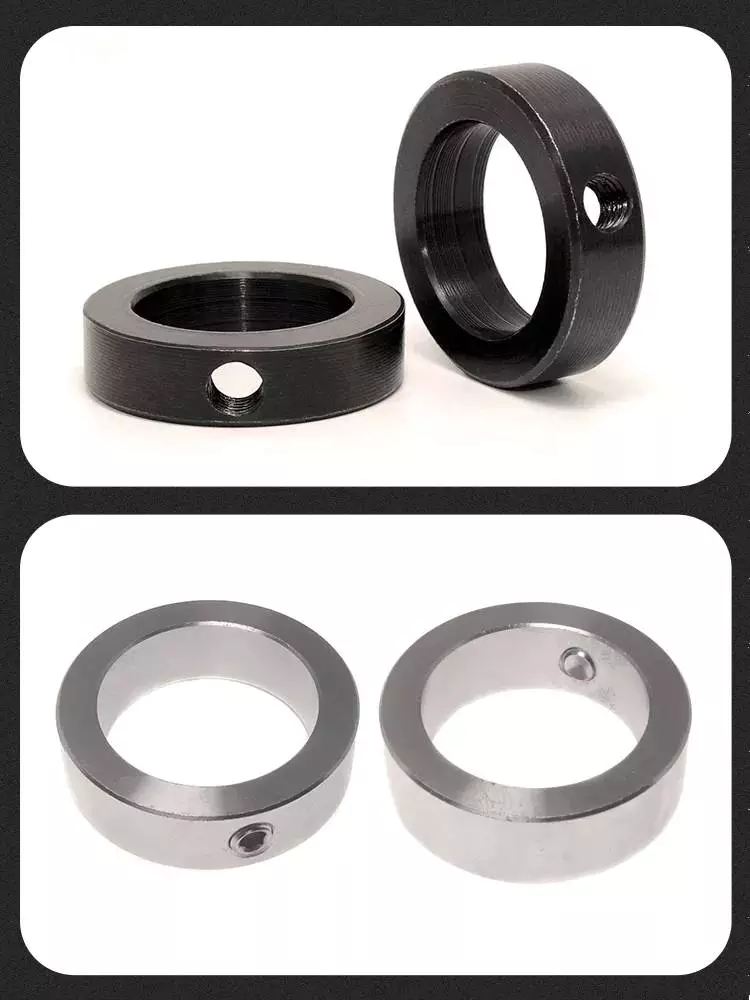 Set-screw shaft collars
Set-screw shaft collars are used to secure a shaft to a screw. They are available in several sizes and materials. Typical types include the solid, quick-release, split, and threaded styles. They come in an assortment of sizes and materials, including aluminum, zinc plated steel, and black oxide steel. Most are available in stock and are available in various sizes.
These collars come in many sizes and are ideal for use with standard round shafts. They are easy to install and disassemble and feature a high clamping power. They are also available in custom designs and materials. Set-screw shaft collars are available for use in various industries.
The company manufactures a variety of collars, including steel, zinc plated steel, and stainless steel. They also offer custom and adjustable collars. These collars are used in a variety of industries, including the food, chemical, pulp and paper, and wood industries. They are available with a variety of screw threads.
The screw and shaft material relationship must be compatible to ensure a secure fit. In addition, the shaft material should be softer than the screw material. For this reason, set-screw shaft collars are most effective when the shaft is made from softer material. Some setscrew shaft collars feature forged socket set screws to increase their holding power and torque capacity. Additionally, forged stainless steel set screws also increase their performance and hardness.
Shaft collars can be used on machines and transmission applications. They can be adjusted with a set screw or grub screw. In addition to setting the collar into place, a screw driver can also be used to adjust the grip on the collar. This type of shaft collar is often used in manufacturing applications.
Clamp-type collars are another type of shaft collars. These types allow the shaft to rotate and are used for mounting sensors and fixtures. These collars can be found in one-piece or two-piece styles. They can also be used in harsh environments.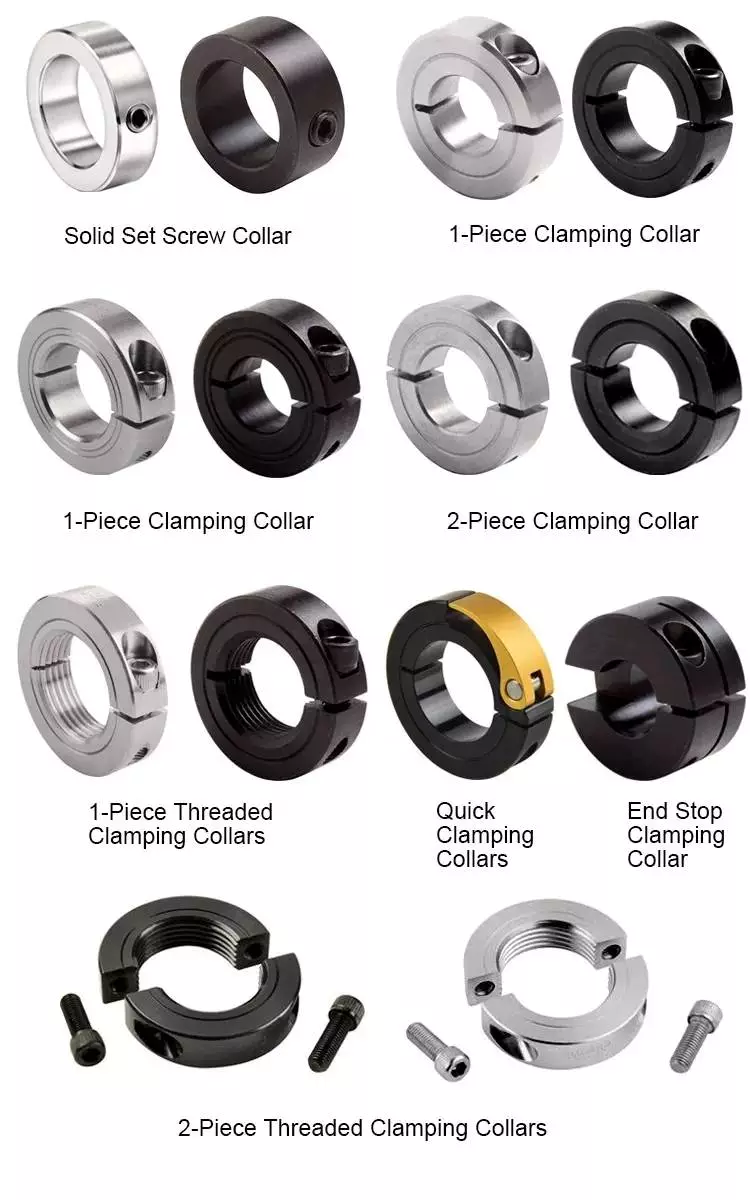 Single split shaft collars
Single split shaft collars are used in many applications to protect the shaft from wear and tear. They are easy to install and disassemble, reducing downtime and labor costs. These collars utilize full seating torque of the set screws to apply equal force distribution around the shaft's circumference, providing stronger holding power.
These shaft collars are available in a variety of materials. They are typically made from different types of steel, including stainless, alloyed steel, nylon, and aluminum. Some are even available in custom sizes. In addition to standard sizes, single split shaft collars also come in a variety of finishes, including black oxide and chrome.
Single split shaft collars come in metric and imperial sizes. They can be made of various materials, including zinc and lead-free steel. These collars are available with a black oxide finish for extra corrosion resistance. They are also available in 303 and 316 stainless steel. They can also be made from engineered plastics.
Single split shaft collars are the most popular style of shaft collars. They are easy to install and disassemble. They provide a tight fit and superior holding power over solid shaft collars. They are also easier to replace and can be used on a variety of shafts. In addition, single split shaft collars are easy to remove and adjust.
Single split shaft collars are available in a variety of bore sizes. They can fit shaft diameters from 1/8″ to four fifteen/16″. Ideally, the material used should be softer than the set screw. You can also choose between non-plated and chrome-plated collars. These collars are available in metric or imperial measurements.
Single split shaft collars are one-piece or two-piece designs. Single-piece shaft collars feature one screw and two-piece collars have two. They are easier to install than single-piece shaft collars and are suitable for lighter duty applications. Single split shaft collars are available in a variety of threaded bore sizes.
Single split shaft collars have a wide range of uses in industrial settings. They can secure bearings on shafts or locate components in motor assemblies. They can also function as mechanical stops. RS PRO offers a wide selection of shaft collars that meet and exceed industry standards.




editor by czh2023-02-16