Product Description
Product Description
Product description
Linear shaft features
Items

Linear shaft

Flexible shaft

Hollow shaft

Material

CK45, SUJ2

CK45

SUJ2

Heat treatment

Induction hardened

Not hardened

Induction hardened

Surface hardness

HRC58±2

HRC15±3

HRC60±2

Surface treated

Hard chrome plated

Hard chrome plated

Hard chrome plated

Precision

h7, g6, h6

h7, g6

h7, g6, h6

Roundness

Max3.0µm

Max3.0µm

Max3.0µm

Straightness

Max5.0µm

Max5.0µm

Max5.0µm

Chrome thickness

20-30µm

30µm

30µm

Roughness

Max1.5µm

Max1.5µm

Max1.5µm

Process machinized

Threading, reduced shaft dia,coaxial holes drilled and tapped, flats-single or multiple, key way, snap ring grooves, radial holes drilled and tapped, chamfering
Linear shaft description
ERSK Linear offers linear shafting in a variety of different options to meet a wide range of customer needs. Available in hardened steel, CK45 material steel, SUJ2 material steel, hollow steel , inch and metric, Simplicity Shafting maintains the ideal surface finish for linear plain bearings and ball bearings.
· CZPT round shafting is available in inch sizes from 3/16″ thru 4″ and metric sizes from 3 mm thru 80 mm
· Machining available CZPT request
High Reliability
ERSK linear shaft has very straight quality control standards covering every production process. With proper lubrication and use, trouble-free operation for an extended period of time is possible.
Smooth Operation
The high efficiency of linear shaft is vastly superior to conventional shaft. The torque required is less than 30%. Linear motion can be easily changed from rotary motion.
High Durability
Rigidly selected materials, intensive heat treating and processing techniques, backed by years of experience,have resulted in the most durable linear shaft manufactured.
Induction linear shaft, Flexible linear shaft,
linear bearings shaft, hollow linear shaft,
hardened linear shaft, chromed linear shaft
Application
For delicate application in industrial application, machine tool and automation application.
Linear Shafts – Technical Properties.
Test linear shaft surface roughness

the max roughness is Ra0.4um

Straight the linear shaft straightness:

We control the traighness 0.05mm of linear shaft 300mm

Test hardness:

S45C materail induction linear shaft, the hardness is HRC55-58

GCr15 (SUJ2) materail induction linear shaft, the hardness is HRC58-63

If flexible shaft, the hardness is based on the shaft material itself

Test the linear shaft dia precision, as usually, h7 is the normal tolerance in our stock, But we can offer g6, h6 precision too. if any special tolerance, we are able to customize them for you.
We can machinize all kinds of machining,

Related products
Related products
There are many kinds of products we can offer, If you are interested in them, please click the picture and see the details.
Production Flow

Over service
Over Service

Packaging & Shipping
Packaging and shipping
PP bag for each linear shaft, Standard exported carton outside for small order shipping by international express, such as DHL, TNT, UPS
Wooden box outside for big quantity or very long linear shaft by sea, by air

 
Company Profile
Company information

Our principle
| | |
| --- | --- |
| Material: | Gcr15 |
| Load: | Drive Shaft |
| Stiffness & Flexibility: | Stiffness / Rigid Axle |
| Journal Diameter Dimensional Accuracy: | H7, H6, G6 |
| Axis Shape: | Straight Shaft |
| Shaft Shape: | Real Axis |
Samples:

US$ 3/Meter

1 Meter(Min.Order)

|
Request Sample
Customization:

Available

|

Customized Request

How to Choose the Right Shaft Collar
A shaft collar is a small, inexpensive machine component that serves a variety of purposes in power transmission. It is most commonly used in gearboxes and motors. It can serve as a mechanical stop, bearing face, or locating component. Its simple design makes it easy to install. Here are some of the most common types and their functions.
Function
Shaft collars are an important part of many mechanical systems. These devices hold mechanical components on a shaft and also help mount shafts on flat surfaces. They are available in many different styles, sizes, and materials. Selecting the right shaft collar is essential in preventing damage to components. Stafford Manufacturing, a leading manufacturer of shaft collars and other related mechanical components, can help you choose the right one for your application.
There are two main types of shaft collars. The first is the Heavy Duty type. It has a larger outer diameter and wider opening. While this may seem to increase holding power, the problem with that is that it can reduce the amount of space the collar has on the shaft. On the other hand, the Thin Line type is similar, but is made with smaller outer diameters. Another type is the Threaded Bore shaft collar. These shaft collars offer exceptional axial holding power, and are designed to protect threaded shafts without causing any damage.
A shaft collar has many uses and is typically used in industrial applications. It can act as a spacer and to stop shaft movement in reciprocating applications. It can also be used to align and position parts of automation machinery.
Types
There are several different types of shaft collars. These components are critical for a variety of applications, and their design plays a large role in the performance of the resulting product. To select the most appropriate collar, designers must consider several factors, including the style, material, bore size, and geometry of the shaft. Many manufacturers provide performance data, and users can contact them for assistance.
There are many different types of shaft collars, which make it important to understand how each one works and what applications they can serve. Fortunately, shaft collars are easy to install and require little maintenance. Whether you need to secure industrial railings or position medical equipment, shaft collars are a versatile component that can be tailored to meet your needs.
One type of shaft collar is the locking collar. This type of shaft collar has a threaded end that is designed to mate with spindle bearings. They offer an increased TIR than standard shaft collars and allow for precise preload control. They also feature slots for spanner wrenches.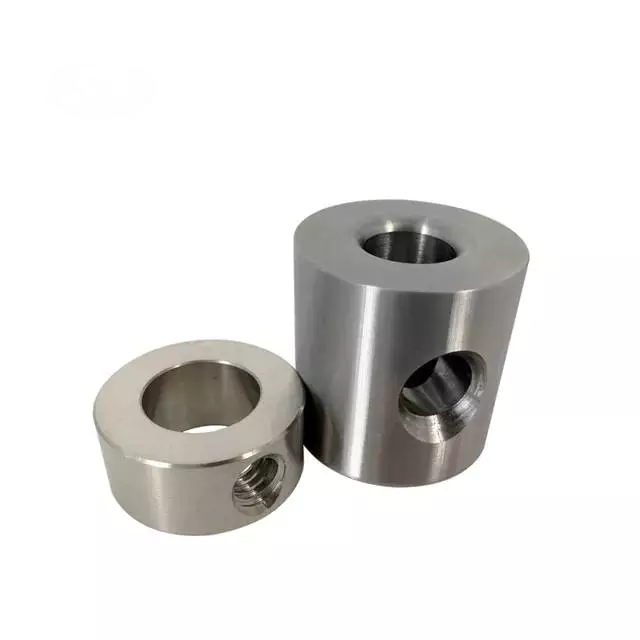 Sizes
Shaft collars come in a variety of sizes. You can get a small diameter shaft collar for small equipment, or a large diameter shaft collar for larger equipment. Both styles are made from solid steel, and they come in several thicknesses. You can choose between one-half inch and six-inch collars, depending on your needs.
There are no specific standards for shaft collars, but most manufacturers have similar designs. They're either single-point faced or double-split, and can be fine or coarse threaded. They're often used as mechanical stops, bearing faces, or as locating components. Their bore is either fine or coarse, and their outside diameter and width are determined by the shaft diameter.
Shaft collars are commonly found in mechanical and automation equipment. These ring-shaped devices hold motor components, sprockets, and bearings in place. They also allow them to be adjusted and positioned precisely. A shaft collar is often used to connect the end of a shaft to a mechanical stop.
Another type of shaft collar is called a set collar. It has a recessed area for a screw to bite into a shaft. These collars are perfect for holding sprocket hubs, bearings, and spacers. They can also be used as a rigid coupling.
Cost
When choosing a shaft collar, consider its intended application and cost. Some shaft collars are very expensive while others are quite affordable. Choose one that meets the needs of your assembly. If you're using the shaft collar infrequently, a clamp style or a set screw style may be a better choice. Then, you can easily adjust or disassemble it with just a few tools. If you're using it more frequently, choose a two-piece shaft collar.
The material of the shaft collar is also an important consideration. Steel and stainless steel are common choices. While both materials are strong and durable, steel tends to have better holding power. However, aluminum shaft collars are lighter and provide better strength-to-weight ratio. The type of material you choose depends on the amount of corrosion protection you need, and whether you'll need the collar to resist extreme temperatures. If the shaft collar is going to be used in a hot environment, you may want to go with a titanium collar.
There are many different sizes and types of shaft collars. The type of collar you choose depends on the specific application and the system it'll be used in. Consider the dimensions of your shaft, the material of the shaft, and the length of the shaft to find the right fit. If you're not sure what size you need, ask a manufacturer for help.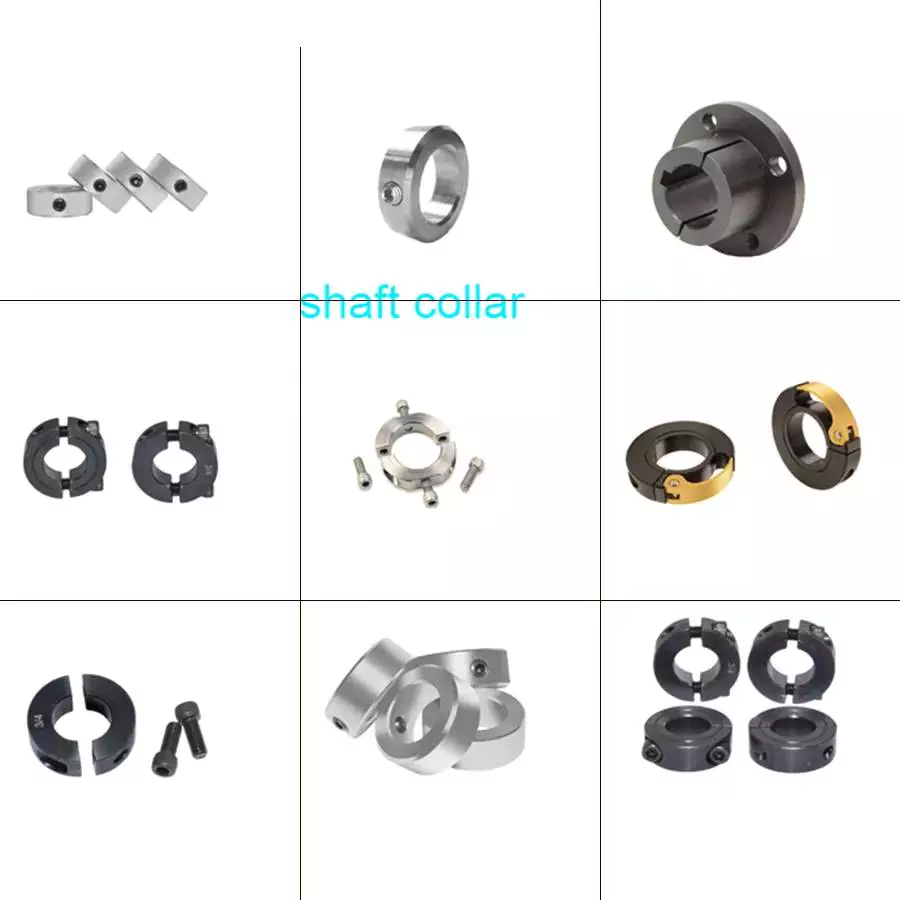 Placement on shaft
In some applications, the placement of the shaft collar can be critical to the overall performance of the machine. The collar's design must take many factors into account, including material, style, bore size, and shaft geometry. If a user is uncertain of the proper placement of their collar, they should refer to the manufacturer's website for guidance.
While shaft collars may look simple, they're actually essential mechanical components that are used in almost every type of machinery. Despite their ubiquitous use in every industry, they are often underappreciated due to their complexity. Many people aren't aware of their importance or the various types of collars available. This shaft collar guide will provide detailed information to help you find the right shaft collar for your specific application.
The surface treatment of the shaft collar is another important factor that contributes to its holding power. The most common treatment is a black oxide finish. This finish enhances screw torque while preserving the frictional properties of the bore. This finish can be further optimized by applying light oil to the screw. Zinc plating is also a good option for shaft collars. This material offers better corrosion resistance, but can reduce holding power.
Clamp style
A clamp style shaft collar is a simple and effective tool for securing shafts in machine tools. Its two-piece design allows for quick and easy positioning adjustments and has greater holding power than set screw collars. In addition, its friction-based connection maintains ease of use and prevents shaft damage. This type of collar is also more corrosion resistant than set screw collars.
There are several different types of shaft collars, including single and double split collars. Single-piece clamp collars are anchored into the shaft with a single tangential screw, whereas double-piece collars are anchored to the shaft with two socket cap screws. The latter type provides more stability and axial holding power and is suitable for rotating assemblies. A single or double-piece clamp collar can also be threaded to allow for precise positioning along the shaft. Its internal threads also provide enhanced support for high axial loads and act as a positive mechanical stop.
There are different types of shaft collars, each with its own set of advantages and disadvantages. A set-screw collar may be preferred over a clamp-style shaft collar, but it's not the only choice. A set-screw collar can severely mar the shaft and can prevent fine adjustments. However, it is a good idea to use the torque wrench when tightening a shaft collar.
Zinc plated
Zinc plated shaft collars are available in a variety of sizes. They are precision machined from cold finished steel bar stock and zinc plated for corrosion resistance. They are also very attractive. They are made in the USA. Whether you need a zinc-plated shaft collar for a simple repair or a more complicated installation, Lovejoy has the right solution for your needs.
The CZPT MSP-12-FZ two-piece shaft collar has a 12mm bore, 28mm OD, and 11mm width. Its clamp style design allows you to easily install and remove the shaft collar. It is easily adjustable and is stamped with the CZPT name.




editor by CX 2023-05-29
Product Description
Item Description
Straight line shaft is a item that can be made into straight line motion since of the guiding function of sliding bearing.
The necessary circumstances of linear motion system are: easy design, optimal overall performance, lower servicing cost, sturdy components, substantial-frequency heat remedy, precise
Outside diameter dimension, roundness, correct flatness and floor therapy, and many others.
Model design: diameter 5- 607
The substance of carbon metal
Hardness HRC60 ± two
Hardening thickness
.8 mm – 3 mm
Length -6000mm (if you require a lot more than 6000mm, we can reverse relationship for you)
Precision g6
The roughness is inside of 1.5μm
Straightness 1.5μm 100mm (Rmax)
Other straight shaft types sound shaft, hollow shaft, threaded shaft, stainless metal shaft
Other resources bearing metal GCr15, carbon metal 45#, SUS440C
We are a specialist bearing producer in China, substantial good quality bearings can be tailored in accordance to OEM and according to your requirements
Assortment of software
one. The reliable shaft
Generally applicable to industrial robots, as specialist measuring instruments, medical devices, precision device equipment, aircraft shafts, pneumatic mandrel moving components.
2. The hollow shaft
With the rewards of reducing the weight and simplifying the structure of the tools, the inner measuring wire, compressed air, and lubricating oil and hydraulic oil can be worn yet again.
3, stainless steel shaft
Usually ideal for chemical compounds, seawater and so on
Utilised as element of a measurement in the presence of a compound.
Particular processing shaft soon after heat treatment finishing, all models are challenging chrome plated automation products.
 
Specific processing
one.The length of the
We can provide straight spools with diameters φ5mm-φ150mm. Maximum length up to 6000 mm.
When you have unique demands for duration, we can meet your processing demands of distinct lengths.
When you call for more than 6000mm, we can reverse link for you.
two. Special processing
When you have specific specifications for processing. This sort of as thread, with the shaft hole drilling tapping, radial gap drilling tapping, shaft diameter diameter, and so forth., we can process for you, these special devices following warmth therapy and challenging chromium remedy, to make sure the accuracy of goods.
Send your in depth sketches or blueprints to us for quotation and motion, reply to us after you discover our manufacturing unit price best for processing.
 
Detailed Photographs
Organization Profile
ZHangZhoug HangZhou KaiYaDe bearing co., LTD. Is a have numerous several years knowledge of linear motion goods specialist manufacturers. We specialised in the production of straight axis, linear information, ball screw, linear bearings, linear manual, ball screw stop help, linear information, CAM follower and of excellent quality and competitive price tag. My firm is positioned in HangZhou city, zHangZhoug province, near to HangZhou port and HangZhou city.
Items are commonly utilised in precision equipment, health and fitness tools, printing equipment, packaging machinery, health-related equipment, foods machinery, textile machinery and connected gear. Products offer nicely in North The usa, Western Europe, Australia, southeast Asia, the Center East, South The usa and other locations.

FAQ
one. Are you a manufacturing unit or investing business?
We are the most aggressive price and higher high quality skilled manufacturers, has twelve several years of experience.
2. What is your product range?
Specializing in the creation of straight axis, linear bearings, linear guide, linear manual, ball screw, linear motion device these kinds of as CAM follower.
3. Do you give OEM&ODM support?
B: yes. Welcome OEM, ODM
four. How can I get some samples?
We are very honored to provide samples. You need to have to pay out the freight and some sample price.
5. How is the good quality management of your manufacturing facility?
We uphold the tenet of "top quality is the potential", we have passed CE certification, we have strict top quality management procedures.
six. How can I get quotation?
You can send beneath quotation or deliver e mail to us. You can contact us straight by TM or WhatsApp and Skype as you like. If you have an unexpected emergency, you should call us at any time.
 
Go to the Factory surroundings
| | |
| --- | --- |
| Material: | Carbon Steel |
| Load: | Drive Shaft |
| Stiffness & Flexibility: | Stiffness / Rigid Axle |
| Journal Diameter Dimensional Accuracy: | H7 H6 G6 |
| Axis Shape: | Straight Shaft |
| Shaft Shape: | Real Axis |
###
| | |
| --- | --- |
| Material: | Carbon Steel |
| Load: | Drive Shaft |
| Stiffness & Flexibility: | Stiffness / Rigid Axle |
| Journal Diameter Dimensional Accuracy: | H7 H6 G6 |
| Axis Shape: | Straight Shaft |
| Shaft Shape: | Real Axis |
###
Different Types of Shaft Collars and How to Choose the Right One For Your Needs
A shaft collar is a simple machine component, but its role is crucial in a variety of power transmission applications. It is most commonly found in gearboxes and motors. Its simple design makes it a relatively easy component to install. In addition to being useful for bearing faces, shaft collars are also used as mechanical stops.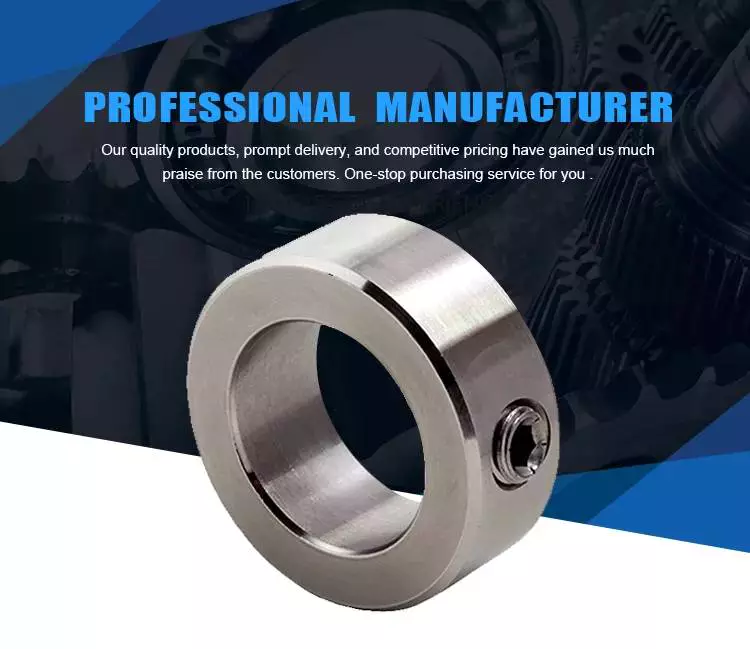 Single split shaft collars
Single split shaft collars are a common design choice for industrial applications. They provide easy installation and disassembly, reducing downtime and labor. Unlike traditional collars, they use full seating torque of set screws, resulting in even distribution of forces along the shaft circumference. In addition, they provide stronger holding power.
Single split shaft collars are available in a variety of sizes and materials. They are typically made of stainless steel, alloyed steel, or nylon. They are available with a black oxide finish or a smooth finish. In addition, they can be manufactured to custom sizes. The benefits of shaft collars manufactured by Power Rite are the high quality of their materials and the close tolerances of their manufacturing process.
Single split shaft collars are available in D-bore or hex bore configurations. They are designed to fit shafts with diameters from 1/4″ to 6″. Some of these types also have a proprietary black oxide finish. Single split shaft collars can be manufactured with a range of materials, including 303 stainless steel and 1215 lead-free steel. They can also be made with engineered plastic.
Single split shaft collars are an excellent choice for applications where accurate positioning is essential. These collars can be easily installed and removed without removing any of the shaft components. They feature double grub screws to help tighten the clamp around the shaft. This feature makes installation and removal easier and reduces downtime.
Single split shaft collars are also available in a lightweight style for applications where space is an issue. While these collars are ideal for light-duty applications, they are not ideal for heavy-duty environments. Single split shaft collars are generally made of a softer material, such as steel. They have high torque capacities and hold securely around a shaft. However, their high holding power and low friction means they can damage a shaft or cause indentations that make repositioning the shaft difficult.
Clamp-style shaft collars are another option for tougher installations. This type offers more clamping power than a one-piece shaft collar. They come in either a one-piece or two-piece design, and can be installed by hand.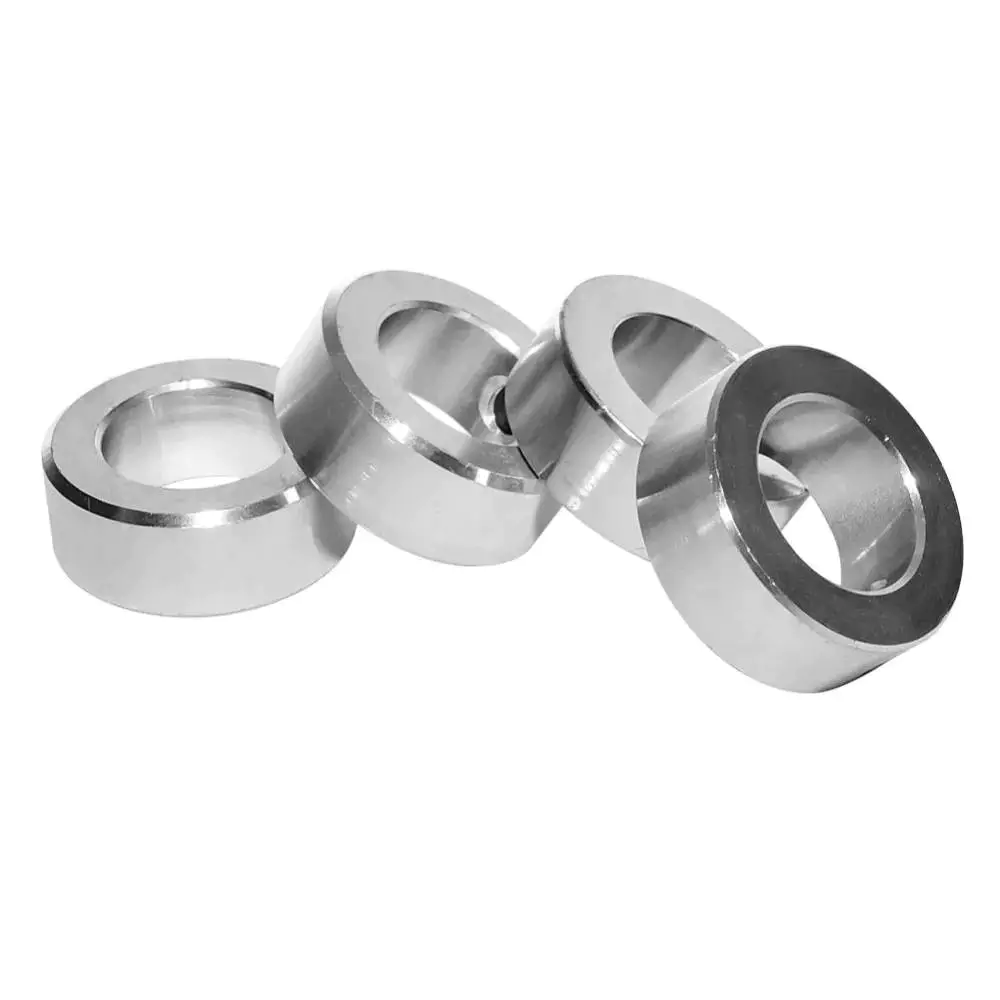 Set screw collars
Set screw collars are used to secure shafts. They are available in a variety of sizes and materials. Available options include hex socket, cup point, and 3A thread screws. They are suitable for a variety of industries, including food, wood, and chemical. A distributor of set screw collars can custom-design them to meet the specifications of a given application.
There are many different types of shaft collars, which include socket set screw collars, 2-hole set screw collars, and metric and stainless steel collars. In addition to these, you can also find corrosion-resistant set screw collars with a black oxide finish. These collars are ideal for industrial and commercial applications and are RoHS compliant.
Set screw collars are the most cost-effective option for shaft collars. They also offer lightweight options for applications where space is at a premium. Additionally, they can be equipped with a second screw positioned at 90 degrees to provide additional load capacity. They also come with a keyway to accommodate keyed shafts. These collars provide a reliable solution for securing shafts in a variety of applications.
Compared to set screw collars, clamp-style collars are easier to install and have greater holding power. They are available in one and two-piece versions. Clamp style collars are designed to lock onto a shaft while not damaging it. In addition, they are easily removed and reinstalled. They can be used in a variety of settings, including in guiding systems and bombsights.
Set screw shaft collars are an excellent choice for applications where precision is important. They prevent shafts from moving and hold power transmission components in place. The set screw collar is set in place with a grub screw or set screw. The screw driver can adjust the set screw to achieve the desired position.
Quick-clamp shaft collars
Quick-clamp shaft collars are a simple yet effective way to secure shafts. These collars have an eccentric lever that generates a locking force on the shaft. They are easy to install and remove and are manufactured with an aluminum design. In addition, these collars have a low mass inertia value. They are available in both one-piece and two-piece styles. Both styles have outer diameter flats for mounting other components.
The Quick-clamp shaft collars are resilient and feature a flush handle. They are easy to install and adjust, eliminating the need for tools and reducing production downtime. Another feature of these collars is that they have a high-strength tension adjustment screw that ensures compatibility with a wider range of shaft tolerances. These collars also have an axial holding power adjustment screw.
CZPT manufactures two types of quick-clamp shaft collars. One type has a cam lever that sits flush with the outside diameter and is finger-actuated. The other type is a clamp-style collar with a tension-adjustment screw. This design is better suited to low-rpm applications, or for frequent changeovers.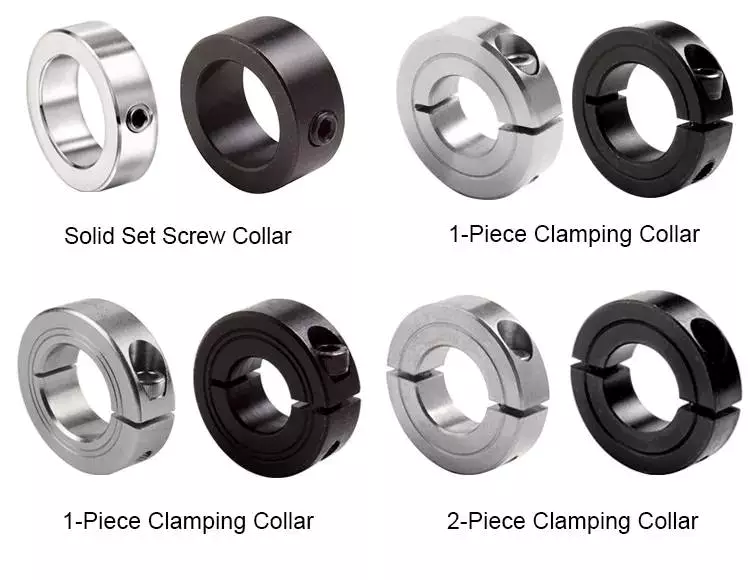 Choosing the right shaft collar for your application
Shaft collars play a key role in many industrial applications, and choosing the correct one is critical. They need to be designed properly and have the appropriate performance characteristics to ensure safe and effective operation. In this article, we will look at the different types of shaft collars and how to choose the right one for your needs. Typically, shaft collars are made from steel or aluminum, coated with zinc or another corrosion resistant material. But they can also be made from non-metallic materials.
Shaft collars come in a variety of shapes and materials, and the right one for your application will depend on these features. The key factors to consider are the material, holding power, and surface treatment, and their alignment with your application specifications. The shaft collars that fit your application best are often highly customizable, so it is important to determine the exact specifications for your application.
Shaft collars are simple and versatile components that are used to secure bearings on a shaft. They also serve as mechanical stops and can help to align and space other components. Shaft collars are widely used in gearbox assemblies, flagpoles, medical instruments, and other applications. They are available in a wide variety of styles, and can be used for nearly any application.
The type of shaft collar you choose will depend on the application and the type of machine. A heavier duty shaft collar will provide better vibration and shock resistance. These collars are typically designed for off-road or mining applications, and can be made of heavy-duty steel. They also provide more holding power, as double-wide shaft collars can provide an additional 25% of holding power.
When choosing a shaft collar, it's important to consider the application and the required level of maintenance. Some assemblies will only need minor adjustments, while others require frequent disassembly. A two-piece shaft collar is a better option for assemblies that will have to be removed often.




editor by czh 2022-12-25